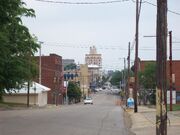 Dothan is a city located in southeast Alabama about 20 miles west of the Georgia state line and 18 miles north of Florida. Dothan is the seat of Houston County and parts of it extending into Dale and Henry Counties. Its name comes from Genesis 37:17:"let us go to Dothan." The city's population was 65,496 according to the 2010 census making it the largest city in this part of the state.
Dothan is the principal city of the Dothan Metropolitan Statistical Area which encompasses Geneva, Henry, and Houston counties; the small portion of Dothan that is in Dale County is part of the Enterprise-Ozark Micropolitan Statistical Area. The entire Dothan metropolitan area population in 2010 was 145,639.
Dothan is called "The Peanut Capital of the World" because approximately one-fourth of the peanut crop produced nearby.
Television Stations
Edit