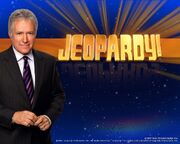 Jeopardy! is an American television game show created by Merv Griffin. The show features a quiz competition in which contestants are presented with general knowledge clues in the form of answers, and must phrase their answers in question form. The original daytime version aired on NBC from March 30, 1964 to January 3, 1975, then came a weekly nighttime syndicated edition that aired from September 9, 1974 to September 5, 1975, and was later revived as The All-New Jeopardy!, it ran from October 2, 1978 to March 2, 1979. The most successful incarnation of the program is the daily syndicated version, which premiered on September 10, 1984.
Both NBC versions and the weekly syndicated version were hosted by Art Fleming. Don Pardo served as announcer of the show until 1975. John Harland announced for the 1978-1979 show. Since the beginning of the daily syndicated version, Alex Trebek as host and Johnny Gilbert as announcer. Trebek is expected to retire from the show in 2016, at which point his tenure as host will have lasted for 32 years.
As of May 2011, the syndicated version of Jeopardy! has aired over 6,000 episodes. The daily syndicated version has also won a record of 30 Daytime Emmy Awards and a Peabody Award. The Game Show Network (GSN) ranked the show number 2 on its 2006 list of the greatest game shows, TV Guide ranked it number 1 of the 60 greatest game shows ever. The 30th season of the daily syndicated version of Jeopardy! premiered on September 16, 2013.