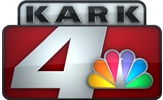 KARK-TV, virtual channel 4, is the NBC-affiliated television station for Central Arkansas and is licensed to Little Rock. Owned by Nexstar Broadcasting Group, and is the sister station to MyNetworkTV affiliate KARZ-TV (channel 42). Nexstar also operates Fox affiliate KLRT-TV (channel 16) and CW affiliate KASN (channel 38) under an outsourcing agreement, owned by Mission Broadcasting. All four share studios on West Capitol Avenue in Downtown Little Rock.
KARK broadcasts a high definition signal on UHF channel 32, using its former analog channel assignment of 4 as it's virtual channel via PSIP, from a transmitter on Shinall Mountain near Chenal Valley.
Ad blocker interference detected!
Wikia is a free-to-use site that makes money from advertising. We have a modified experience for viewers using ad blockers

Wikia is not accessible if you've made further modifications. Remove the custom ad blocker rule(s) and the page will load as expected.