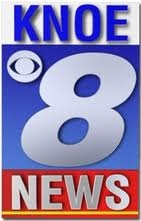 KNOE-TV, channel 8, is the CBS-affiliated television station for Monroe, Louisiana. It is owned by Gray Television, which also controls ABC affiliate KAQY (channel 11; owned by Parker Broadcasting since October 9, 2008) under a local marketing agreement.
KNOE's digital transmitter is located south of Monroe in Columbia, Louisiana; the station also operates a low-powered translator, K18AB-D in El Dorado, Arkansas, which rebroadcasts KNOE's digital signal in high definition. Even though the translator is broadcast on channel 18, PSIP displays K18AB-D under the virtual channels 8.1 and 8.2.
Ad blocker interference detected!
Wikia is a free-to-use site that makes money from advertising. We have a modified experience for viewers using ad blockers

Wikia is not accessible if you've made further modifications. Remove the custom ad blocker rule(s) and the page will load as expected.