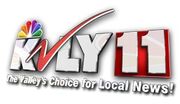 KVLY-TV, channel 11, is the NBC-affiliated television station for Fargo, North Dakota, serving eastern North Dakota and northwestern Minnesota. The station broadcasts a high definition signal on UHF channel 44(virtual channel 11.1 via PSIP) from a transmitter near Blanchard. The station can be seen on cable channel 11 in most areas of the market. A high definition signal is offered on Midcontinent digital channel 611 and Cable One digital channel 465.
The station shares its facilities with CBS affiliate KXJB-TV, which it operates under a local marketing agreement, at the intersection of South University Drive and I-94 in Fargo. In addition to the main studio in Fargo, KVLY and KXJB operates a news bureau and sales office in the US Bank building in downtown Grand Forks.
Syndicated programming on KVLY includes Dr. Phil, The Ellen DeGeneres Show, Live! with Kelly, Wheel of Fortune, and more.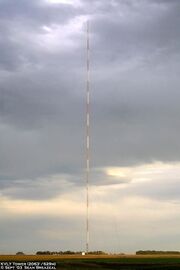 The station is most notable for using the third tallest above-ground structure in the world for broadcasting its signal. The KVLY-TV mast rises 2,063 feet high. KVLY is owned by Hoak Media Corporation of Dallas, Texas. The tower was at one time the tallest structure in the world, and is the tallest structure in North America. The KXJB tower is located 6 miles from the KVLY tower.