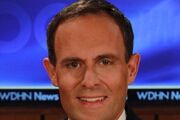 Kevin Presley is the main anchor and the assistant news director for WDHN-TV in Dothan, Alabama.
He enjoys telling many interesting feature stories from around the Wiregrass. His personal favorite is the story of "Little Godfery Cordial", the story of a 130-year old gravestone in rural Henry County, Alabama, bearing the wrong name.
In January 2014, Kevin made the decision to leave his 10-year career at WDHN. His final appearance will be the 10:00 news on WDHN on February 28, 2014. Though he will be leaving his job at WDHN, he will remain in the area and said he will possibly fill-in from time to time as needed.
References
Edit
dothanfirst.com
Ad blocker interference detected!
Wikia is a free-to-use site that makes money from advertising. We have a modified experience for viewers using ad blockers

Wikia is not accessible if you've made further modifications. Remove the custom ad blocker rule(s) and the page will load as expected.