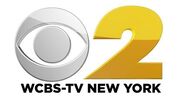 WCBS-TV, channel 2, is the flagship station of the CBS Television network, located in New York City. WCBS-TV is owned by the CBS Television Stations division if the CBS Corporation. It also operates as a part of a television duopoly with Riverhead, Long Island-licensed independent station WLNY-TV (channel 55). WCBS's studios are located within the CBS Broadcast Center, and its transmitter is based at the Empire State Building, both in midtown Manhattan.
In the few areas of the eastern United States where a CBS affiliate is not receivable over-the-air, WCBS is available on satellite via DirecTv.
Ad blocker interference detected!
Wikia is a free-to-use site that makes money from advertising. We have a modified experience for viewers using ad blockers

Wikia is not accessible if you've made further modifications. Remove the custom ad blocker rule(s) and the page will load as expected.