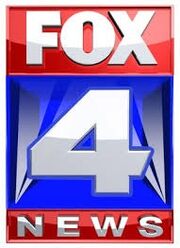 WDAF-TV, virtual channel 4 (UHF digital channel 34), is a Fox-affiliated television station serving Kansas City, Missouri and Kansas City, Kansas. The station is owned by the Tribune Broadcasting subsidiary of the Tribune Company. WDAF maintains studio and transmitter facilities located on Summit Street in the Signal Hill section of Kansas City, Missouri. WDAF is available on Time Warner Cable and SureWest channel 6, and AT&T U-verse on channel 4.
WDAF also serves as an alternate Fox affiliate for the Saint Joseph market as the station's transmitter provides a city-grade signal in Saint Joseph proper. The market is primarily served by KNPN-LD (channel 26), which displaced WDAF as the default Fox affiliate upon its June 2, 2012 sign-on.
Ad blocker interference detected!
Wikia is a free-to-use site that makes money from advertising. We have a modified experience for viewers using ad blockers

Wikia is not accessible if you've made further modifications. Remove the custom ad blocker rule(s) and the page will load as expected.