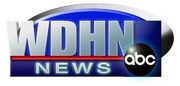 WDHN is the ABC-affiliated television station for the Wiregrass Region in southeastern Alabama. The station is owned by Nexstar Broadcasting Group and is licensed to Dothan, Alabama.WDHN broadcasts a high definition signal on UHF channel 21 from a transmitter tower behind its studios in Webb, Alabama near the unincorporated community of Smyrna, Alabama. Syndicated programs on WDHN include Dr. Phil, Entertainment Tonight, Steve Harvey, Who Wants to be a Millionaire, and others.

WDHN-TV launched August 7, 1970 as the second television station in the Dothan area. It aired an analog signal on UHF channel 18. Original ownership of WDHN was a group of investors headed by Dothan businessman Betts Slingluff Jr. They suggested at that time that WDHN should have went for an NBC affiliation, but geography played a huge part in the choosing of ABC. The main reason was that the region received a somewhat strong signal from WSFA in Montgomery, and the nearest ABC programs were on WJHG-TV in Panama City, Florida on a part time basis. So WDHN chose an ABC affiliation.
Around 1979, when locally-based television stations were losing profitability, the group sold WDHN to Hi Ho Television. Hi Ho also owned WVGA in Valdosta, Georgia. In 1986, Hi Ho sold WDHN and WVGA to Morris Multimedia. WDHN dropped the -TV suffix in 1998. Nexstar Broadcasting bought WDHN in 2003 and also KARK-TV in Little Rock, Arkansas from Morris Multimedia.
The station operated from a small 500-foot tower from behind its studios, and its analog signal operated only at 1.07 million watts, one of the weakest for a full-power station. So, as a result of that, WDHN's coverage was only half that of WTVY, the CBS affiliate in Dothan. Since, WDHN has replaced that tower with a 600-foot tower.
Call Letters Meaning
Edit
WDotHaN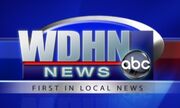 News Operation
Edit
WDHN produces a 5, 6, and 10 pm newscast each weekday night and does not offer local news on the weekends.
Newscast Title
- WDHN News
News Team
Anchors
- Ken Curtis
- Carolyn Brewster
- Charlie Platt (host of Top of the Morning)
- Kevin Presley-Fill-in Anchor
Storm Tracker Live Weather
- Scott Roberts (NWA and AMS)- Chief Meteorologist
Sports
- Hannah Trippett - Sports Director
Reporters
- Ken Curtis - Anchor; News Director; Reporter
- Carolyn Brewster - Anchor; General Assignment Reporter
- Valencia Jones - General Assignment Reporter
- Breanna Barrs - General Assignment Reporter
Resources
Edit
-Wikipedia
-dothanfirst.com