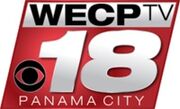 WECP-LD is the low-powered, CBS-affiliated television station in Panama City, Florida. It broadcasts a high definition signal on UHF channel 18 from a transmitter tower on SR 20 in the
Unincorporated Community
of
Youngstown, Florida
. It is owned by Gray Television and is sister to
WJHG-TV
, they share studios on Front Beach Road/SR 30 in Panama City Beach. Syndicated programming on WECP includes The Ellen DeGeneres Show, Access Hollywood, Inside Edition, Extra, Family Feud, and others.
Although associated with WJHG's news department, there are currently no local newscasts simulated on WECP and/or separate shows produced exclusively for this outlet.
Ad blocker interference detected!
Wikia is a free-to-use site that makes money from advertising. We have a modified experience for viewers using ad blockers

Wikia is not accessible if you've made further modifications. Remove the custom ad blocker rule(s) and the page will load as expected.