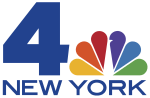 WNBC, virtual channel 4, is the flagship station of the NBC television network serving the New York, NY market. It is owned by the NBC Owned Television Stations group, a subsidiary of NBCUniversal. Syndicated programming on WNBC includes: The Ellen DeGeneres Show, Extra, Access Hollywood, Kathy, and Steve Harvey among others.
News themes
Edit
No music (1960-1974)
NBC TV-Radio Newspulse - Fred Weinberg Productions, Inc. (1974-1979)
WNBC 1979 News Theme (1979-1980)
News 4 New York - Jim McAllister (1980-1990)
WNBC News Package - John Hegner Music (1990-1992)
Up To The Minute - Edd Kalehoff Productions (1992-1992)
We're 4 New York - Edd Kalehoff Productions (1992-1995)
NBC Stations - Edd Kalehoff Productions (1995-2003)
WNBC News - Rampage Music New York, Inc. (2003-2008)
The NBC Collection - Gari Media (2008-2012)
L.A. Groove - Groove Worx (2012-present)
Ad blocker interference detected!
Wikia is a free-to-use site that makes money from advertising. We have a modified experience for viewers using ad blockers

Wikia is not accessible if you've made further modifications. Remove the custom ad blocker rule(s) and the page will load as expected.