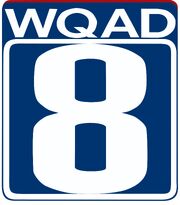 WQAD-TV is the ABC-affiliated television station for the Quad Cities area of West-Central Illinois and Eastern Iowa and is licensed to Moline, Illinois. It broadcasts a high definition digital signal on UHF channel 38 from a transmitter in
Orion, Illinois
. The station is owned by Tribune Broadcasting, WQAD has studios on Park 16th Street in Moline. Syndicated programming on WQAD includes: Dr. Phil, The Ellen DeGeneres Show, and Live! with Kelly and Michael.
Ad blocker interference detected!
Wikia is a free-to-use site that makes money from advertising. We have a modified experience for viewers using ad blockers

Wikia is not accessible if you've made further modifications. Remove the custom ad blocker rule(s) and the page will load as expected.