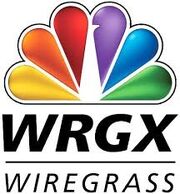 WRGX-LD, UHF digital channel 23.1, is a low-powered NBC-affiliated television station located in Dothan, Alabama. It is owned by Gray Television and is sister to the CBS-affiliate WTVY. The two outlets share studios on North Foster Street in Dothan and transmitter which is located in Bethlehem, Florida. Syndicated programming on WRGX includes Divorce Court, Judge Alex, Jeopardy!, and others.
The station first signed on as a Trinity Broadcasting Network-operated translator called W29BB on channel 29 in 1990. The station later, in 1992, was relocated to channel 41 and changed its callsign to W41BN. Then the station was sold through donation to the Minority Media and Telecommunications Council on November 30, 2010. New Moon Communications acquired the station from the MMTC in a group deal with three other low-power stations which are in Jackson, Tennessee, Jonesboro, Arkansas, and Ottumwa, Iowa for $12,004 on June 28, 2011.
Soon after, New Moon signed an affiliation with NBC for WDON and the three other stations, all of the stations were located in markets where they received the network with rimshot coverage from nearby markets. The callsign for the station was changed to WDON-LP on June 14, 2011.
New Moon announced that it was selling WDON to Gray Television for $60,000 on January 3, 2013. Gray changed the callsign of WDON-LP to WRGX-LD on April 13, 2013. WRGX became the NBC affiliate for the Dothan area when the station signed on the air on June 1, 2013 and is the first NBC affiliate that is licensed to the immediate Dothan market. The market never had an NBC affiliate of its own for the market was receiving signals from WSFA in Montgomery, Alabama and WJHG-TV in Panama City, Florida. Both gave decent coverage to the market. WJHG is actually a sister channel to WRGX. WRGX replaced both outlets in the Dothan market.
News Operation
Edit
WRGX has a 5:30 newscast each weekday produced by sister station WTVY from a secondary set at the North Foster Street studios. The newscast contains the same personnel as seen on WTVY, but the show has a dedicated anchor.
References
Edit
Wikipedia